blog - kategorie: sprache & kultur
Jedes erfolgreiche Großprojekt gelingt offenbar nur mit Teamwork – so auch im Film; durch den aktuellen Film 'Hugo' von Regisseur Martin Scorsese kommt sein Team-Buddy zum Vorschein -> die Cutterin Thelma Schoonmaker ! In der ZEIT gab es eine wunderbaren Artikel darüber, immer wieder schön zu lesen … Scorsese's heimlicher Star
Ein wenig schiele ich immer auf die US-Nachrichten (vor allem via huffingtonpost), wenn der Wahlmarathon für den Präsidentschaftskampf in den USA anläuft – aber diesmal kann man sich ob der Kandidaten der Republikaner nur wundern und den Kopf ungläubig schütteln. weiterlesen… »
Eine gute Idee von Zeit.de, sich wieder mal zu besinnen auf die Zeit der großen Entdecker (und deren Irrtümer !), die ohne jegliches Sicherheitsnetz viele Jahre lang – oft nur aufgrund einer Idee – unterwegs waren, und gar nicht wussten, wonach sie eigentlich suchen … toll zu lesen, heute kaum zu glauben … hier der Link.
Stefan Zweig hat dazu auch ein gutes Buch geschrieben -> Sternstunden der Menschheit – SEHR empfehlenswert !
dear all,
as in any blog you can also post comments in my blog – and I would be very happy if you'd do so !
Without account registration, there are too many spambombs around, unfortunately.
But I tried to keep it still simple for you – and created two 'guest' accounts: they are named after my cats (english spelling), and as mail-account just type my gmail -> elisabeth.utri@gmail.com; you can use those, but please put your name at the end.
And please be patient if your comment is not published right away, as I have to approve it first – I will try to check my dashboard regularly.
Thank you !
In October 2011, I travelled to the Hamptons for the first time, to discover this lovely area – and to volunteer at the Hamptons Int'l Film Festival. I had a great time there, and would like to share some stories of my trip with you on this blog.
The main season here ends around Labour-Day (5th Sept 2011), and it was a pleasure for me that the beaches and other places were not overcrowded – though fortunately, there were many guests watching all the films at the Festival !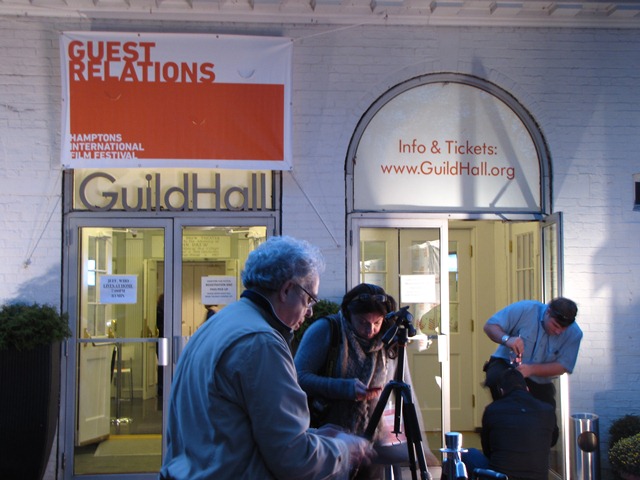 From 13th to 16th October 2011, the Hamptons Int'l Film Festival took place – and I was accepted as a volunteer there -> for more information see this LINK
My first job (at the opening film) was to … count the persons going into the cinema – usually this is done with a so-called 'clicker', a little machine that adds 1 to the previous number with every click; before, the red carpet was prepared …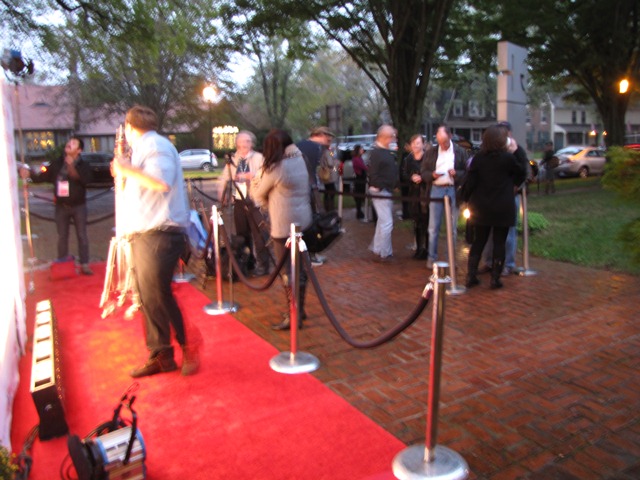 Embedded in my trip to the Hamptons Film Festival, I planned two short stays in NYC, too – just to see how it is today (I have only once been in NYC, end of 2006).
The moment I arrived at the Airport, it was like coming home – I even remembered details of the AirTrain (we used this train for a national flight last time), and everything went smoothly.
I travelled to my first NYC-address with public transport, and waited for my host at a typical 'shop' where you can buy water, deli-kind-of-food (2go or 2stay) and withdraw money (ATM-sign). I was uncovered as European immediately (I wore my Austrian hat), and when I wanted to help myself for an American Coffee, they told me that I must not drink this … but that I should have one of their Cappuchinos instead. I think this was a good recommendation – never tried this US-coffee.
My host, Corina, is a great chap – she spontaneously decided to go to the Blue-Note-Jazz-Club with me on Sunday evening, where Dianne Reeves will perform -> check out her website: http://www.diannereeves.com/
Dianne Reeves also sang the songs in the Clooney-film 'Good night, and Good luck', which won a Grammy for its music !
When we arrived at the Blue Note Jazz Club, we were lucky to get the last two seats at the Bar – and had a nice conversation with an Australian guy next to us. The place looks like a 'real' jazz place, as you would imagine it …
by the way: my compliments to the Jazzhuus in Lustenau, who always succeed in having the same atmosphere during their concerts as it was here in NYC !
The concert  itself was outstanding – great music, big voice !
After the concert, Corina pushed me to the backstage-room of the Dianne Reeves, and we had a little chat with her, and of course she gave and autograph

check out what times she is performing – she told me she is singing in Vienna every year !
As an 'already-perfect-NY-woman', Corinna knew where to go afterwards: to the Outdoor-Rooftop-Bar at 230-fifth … because it was such a gorgeous night, warm like in summer, moon almost full … could not have been any better ! We were walking there quite a while, but we enjoyed it very much. One of the best features of NYC, at least for me, is the variety it has – you can see so many different people in the streets …  just amazing !
I consciously chose a room close to Central Park – and of course, next morning I walked through it … i.e. some parts of it; this is a huge park, similar what is the Grazer Stadtpark for Graz. In addition, I was lucky and it was a stunning day !
Following Central Park West from north to south, one passes by the famous 'El Dorado' Building … watch out the little balconies !
On the same street, more south, there is the Dakota-Buidling, where John Lennon lived and was shot in front of, in 1980.
If you want to know, where exactly these houses are, go there ->
El-Dorado-Building
Dakota-Building